14 – 16 May 2021 | Reid Park, Townsville QLD

Each year, Reid Park is inundated with local and national companies showcasing the latest products and services for the annual Townsville Expo.
Are you planning a holiday away? Talk to the variety of exhibitors at the 2021 Expo showcasing the latest caravans, camper trailers and all things 4×4 to find your new home away from home. Have you got the gear and are looking for a new destination to take the family? Then talk to the holiday and tourism exhibitors on display to find a new destination to wow the family on your next holiday. Don't forget to check the event website and Facebook page for amazing prizes on offer at the 2021 event. Renovating your home? See the range of home and outdoor living products on display to help improve your home. From camper trailers to pools, it's all on show at the 2021 Townsville Expo.
2019 EVENT STATISTICS
Statistic data received from polled 2019 exhibitors and visitors who subscribed to the event newsletter
Is this event important to the promotion of your business?
How would you rate the promotion of the 2019 event?
How successful was the event for your company?
Successful – Extremely Successful

84%

84%
How happy are you with the sales and leads you received from this event?
Happy – Very Happy

84%

84%
The team at Australian Events are highly professional, organised, and
happy to help exhibitors at any stage.
Townsville Expo was a great way for us to increase our exposure and let potential customers know we are a local business.
Australian Events events are fantastically well run shows. It's all down to the amazing organisation and professional staff. We love working with them and are proud to be part of these events.
As a first-time exhibitor I wasn't sure what to expect from the Townsville Expo. From the moment I engaged with the Australian Events representative to the pack up and bump out times and all throughout the event, my business was accommodated for and every need met. Because we provided a major prize for the event, we received an amazing advertisement package which perfectly aligned with our branding strategy. In terms of leads and interest from the public, we were able to engage with a new type of customers who were looking for our services and products.
How would you rate this year's event?
Did you make a purchase at this event?
Do you intend to make a purchase at a later date from an exhibitor you saw at this event?
Are you likely to attend the event next year?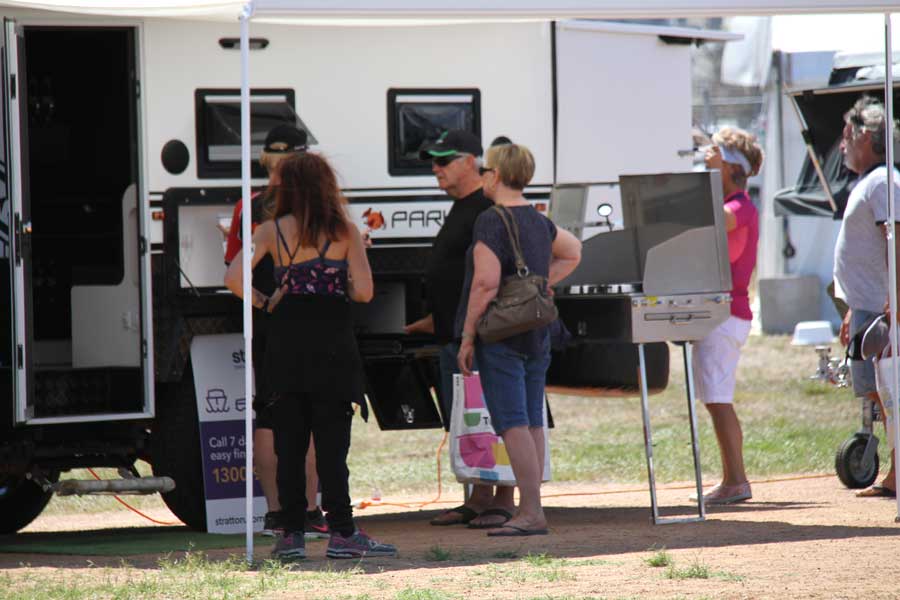 It was really great to see all of the different camper trailers available and our son highly enjoyed the reptile show.
Our family had a great family day out at the expo. We loved the camper and the kids really loved throwing the newspapers!
We enjoyed seeing all the camping trailers and vans all set up and being able to walk through them.
Great staff on the front gate. We came to the event open minded and found exactly what we were looking for – a Cub Camper, which we didnn't even know existed before the Expo. Thank you so much. Overall our time spent at the Expo was well spent, we are very happy – thank you.
We had a fantastic Father's Day at expo. Lots of new adventure ideas and holidays to plan.
Impressed with the standard of displays and helpfulness of salespersons.
The King Brown Camp Oven Cooking Demonstrations and wildlife show was great.
I thoroughly enjoyed the expo. Good displays, good food. A slow meander, snake show, camp oven show and lunch took 3 hours. The Expo was well worth the admission price.
Great range of service providers & displays. All the reps we spoke to were informative. Great opportunity to discover some of the Townsville/local businesses.
WEBSITE STATISTICS
From 26th August – 1st September 2019